VILLA'S CAPITAL CAMPAIGN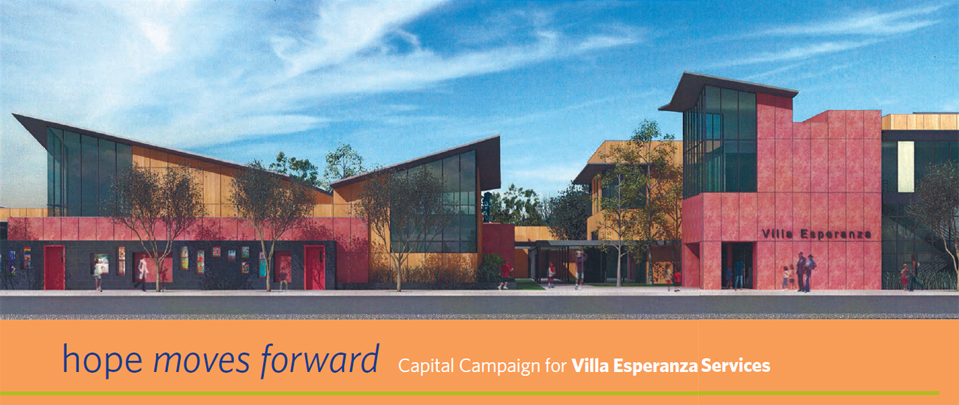 Download Villa's Capital Campaign Brochure
Capital Campaign Update 2018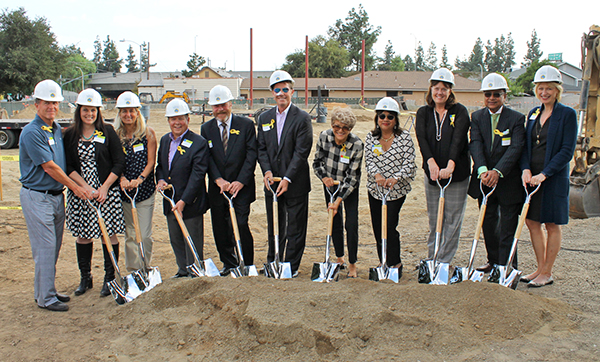 Excavators at the ready, Villa celebrated the Villa School Groundbreaking on October 3rd, 2017. The ceremony marked a new milestone in Phase I of Villa's Hope Moves Forward capital campaign: the construction of a state-of-the art Villa School campus that will include seven classrooms, two large play areas, and a kitchen and multipurpose room. "We envisioned a new Villa," explained Jim McDermott, co-chair of the campaign, "with a space that is functional and facilities that express who we are today: open, soaring, light-filled and modern." As longtime supporters, friends, neighbors and dignitaries looked on, Pasadena Mayor Terry Tornek offered his congratulations and reflected on Villa's invaluable contributions to the community. Phase I would not have been possible without extraordinary lead gifts from the Ayrshire Foundation and Wells Fargo Foundation. Thanks to these leaders, a number of gracious individuals and foundations, and through financing, Villa has secured $10.5 million. When asked to address the project's impact, Villa Board Member Dick Hirrel humbly offered these words: "To step up when called upon is a satisfying feeling. Truly, the donor gets as much pleasure as the donee and more so. What might Villa's children say? '...I am each of you. Can you hear me? I have worth...I am part of our community. I deserve the same opportunity and facilities that you have in your home community. Sometimes I just need a little help from my friends. Thank you for being my friend.'" Many Villa friends have offered their generous support, and thanks to their efforts Villa has put an idea into action. Few would have guessed that when a group of loving mothers first formed Villa School in 1961 the campus would eventually grow to serve 25 school districts and over 80 students. Once construction is completed in the Fall of 2018 and Villa's children are learning, growing, and thriving in the new facilities, Villa School expects to be able to increase enrollment to 100 students. We thank each of our donors for their support as we create Villa's future together!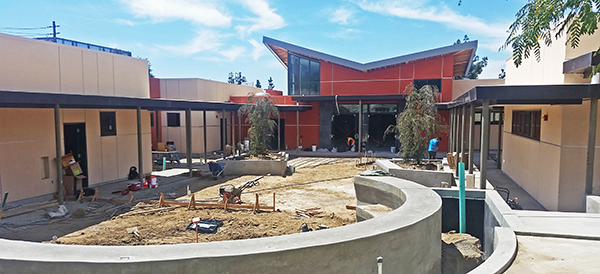 Construction is on target to be completed September 2018!
Capital Campaign Overview
With the excitement that our founders must have felt 55 years ago on the day they opened the doors of the Villa Esperanza School, the vision of Villa's vibrant new campus and facilities is moving forward towards reality. During the past year, the time and talents of many individuals have been devoted to planning and embarking on a capital campaign to raise the $9 million needed to complete the first phase of Villa's master plan. The project will include building a new school to replace the current one and purchasing a permanent home for the Dimensions Adult Day Program.
The words most often associated with Villa reflect praise and admiration for the work we do and cite our effectiveness and leadership in the services we deliver. When it came to our aging facilities, the kindest descriptions were "endearing" and "eclectic." While our campus is well maintained, the mix of old, repurposed buildings represents an earlier era in the history of the developmentally disabled. In the words of Jim McDermott who is the Capital Campaign Co-Chair along with his wife, Cynthia Kurtz, "Our new facilities will be functional and flexible to represent who we are today: open, soaring, light-filled and modern."
The concept that our clients and our staff were deserving of a far better environment became the catalyst for action on the part of two very generous foundations. Leading the charge, the Ayrshire Foundation which is dedicated to "creating opportunities and improving the lives of others," pledged the first $1 million gift. They were quickly joined by the Wells Fargo Foundation who also made a $1 million dollar pledge. Jonathan Weedman, head of Wells Fargo Foundation in Los Angeles stated that the gift to our capital campaign is a response to the "urgent need to renovate the school facilities." Lisa Stevens, Wells Fargo Pacific Midwest Bank Executive added that the two lead gifts "convey the passion and the confidence that everyone in this community has for what Villa has done for over half a century and continues to do."
Villa is very appreciative of our 21 year partnership with Wells which includes the many executives who have served on Villa's Board since 1993 including current board member Rich Byrd, who is serving on our Capital Campaign Cabinet, and former board member Joe DeFur. "Wells Fargo's consistency of support is directly linked to the positive impression made by Villa," explained Tim Hanlon who is President of the Wells Fargo Foundation as well as a member of our Capital Campaign Honorary Committee. "We have been endlessly impressed with their focus, energy and commitment" added David DiCristofaro, Wells Fargo Greater Los Angeles President. "Wells Fargo is aware that rates of certain mental disabilities such as autism are on the rise, and Villa's services grow even more imperative to the success of our community."
Villa Esperanza Services is proud and grateful to be supported by Ayrshire, Wells Fargo, Pasadena Community Foundation, Villa's Board members and many other philanthropic individuals who have already pledged to help underwrite the campaign. Their generous gifts have provided the means and the momentum for Hope to Move
Forward.
For more information about donating to Villa's Capital Campaign, please contact
Gioia Pastre, Vice President of Development and Public Relations, at (626)449-2919, ext. 118.

Read more about Villa's Capital Campaign - In The Media
Development Department (Main Office): 2060 East Villa Street, Pasadena, CA 91107 * Phone: (626)449-2919 * Fax: (626)449-2850