BLUE AND WHITE
Blue and White is Villa's annual fundraiser. It is usually held outdoors and always has a fun theme.
Next year's date is on the calendar!
Save the Date April 18, 2015

2014 Blue & White Nantucket Style Clambake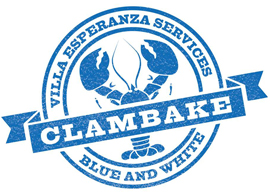 Over 160 guests enjoyed feasting and festivities Nantucket style at Villa's Blue & White Clambake. The nautical inspired gala held May 17, 2014 docked at the home of Jeri and Tim Wright in San Marino. Guests were adorned in an array of Cape Cod Chic apparel including khaki, seersucker, preppy plaids, and sailing stripes. The evening set sail with your professional photo taken by Nick Boswell. From there guests enjoyed a cocktail reception with delectable appetizers – including smoked clams. Supper, provided by Kensington Caterers, included Pacific Sea Bass and roasted chicken with a variety of side dishes.
The evening program, emceed by NBC4 newscaster Colleen Williams, began with awards presented to two honorees - Tracy and Dick Hirrel and Wells Fargo Bank. Tracy and Dick, along with their family foundation, The Ayrshire Foundation, have supported Villa for 8 years. Thanks to their vision for Villa's future, they were the first to pledge $1 million dollars through the Ayrshire Foundation for Villa's Hope Moves Forward Capital Campaign. They have also personally made a generous gift to this campaign.
The second award was given to Joe DeFur and Rich Byrd, both executives with Wells Fargo Bank. When Villa launched the capital campaign with the belief that clients and staff deserve a far better environment, Wells Fargo Foundation quickly joined and became the 2nd to pledge $1 million dollars. This wonderfully generous gift is not an everyday occurrence and Villa is extremely humbled. This gift conveys the passion and the confidence that Wells Fargo has for what Villa has done for over half a century and continues to do.
After the awards, Colleen introduced NBC4 weathercaster, Fritz Coleman, who served as auctioneer and entertainer creating laughs and raising money for Villa's programs for individuals with developmental disabilities. The Clambake committee was led by Hallee Gould of San Marino and included Paulette Geragos and Meredith Johnson of La Cañada; Kathy Cunningham and Maryann Seduski of San Marino; Norma Velvikis of South Pasadena; Suzanne Marks of Altadena; and Noel Daniel of Los Angeles. Lead sponsors included both honorees, graciously donating at the "Skipper" level. The event raised $138,000 for Villa! Thank you to all who attended and made this event a huge success!
Thank you for your support.

Please visit and "like" Villa on Facebook to see more Blue and White photos and keep up to date with us!
Be sure to check out our Media page as well to read articles about Blue and White in the press!