BLUE AND WHITE FUNDRAISER

May 21, 2016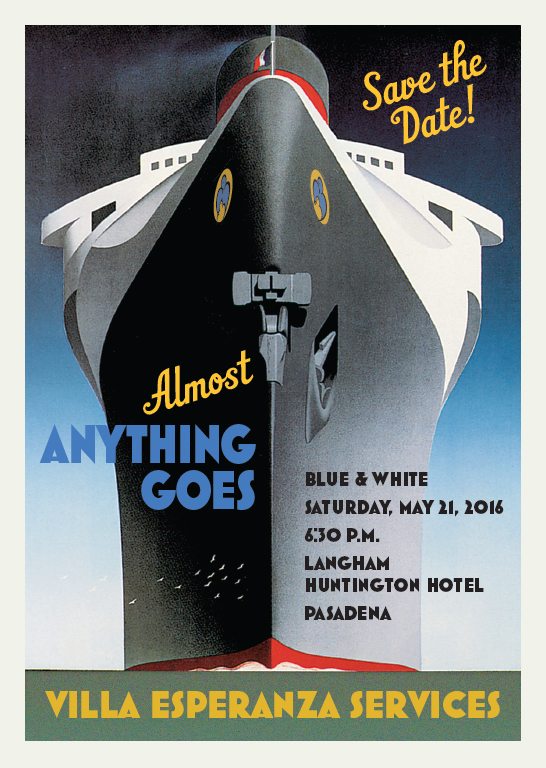 We invite you to join us for Villa Esperanza Services' annual spring fundraiser, Blue & White. This year, Blue & White will bring to life the elegance and fun of a vintage ocean liner cruise with our theme "Almost Anything Goes." Proceeds from the event will support the wide variety of services Villa provides to individuals with developmental disabilities.

Blue and White presents
Almost Anything Goes
An Evening of Hijinks on the High Seas

May 21st, 2016, 6:30 p.m.
Langham Huntington Hotel

Honoring
The Meymarian Family
Al, Debbie and Kathleen

Mistress of Ceremonies
Wendy Burch
KTLA Anchor

Auctioneer
Jonathan Weedman
Wells Fargo Foundation Senior Vice President


Blue & White 2015– Sending Postcards from Pasadena!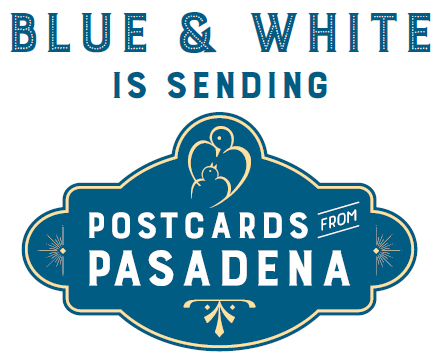 PASADENA, CALIF – Saturday, April 18, 2015 – Villa Esperanza Services celebrated all things Pasadena on Saturday, April 18 at the Langham Huntington Hotel. The sold out "Postcards from Pasadena" themed evening raised $132,000 for Villa Esperanza's programs. The casually elegant evening honoring Mayor Bill and Claire Bogaard began with your professional photo taken by Nick Boswell with a 1946 Packard courtesy of Holly and Jim Shearer. From there guests enjoyed a cocktail reception with libations and delectable appetizers in the courtyard while bidding high on a variety of silent auction items.
The evening program, emceed by, NBC4 Southern California Anchor Colleen Williams, began with honors bestowed to Mayor Bill and Claire Bogaard. Candice Rogers, Villa Esperanza Board Chair along with Susie Nack, Villa Client and daughter of former Mayor of Pasadena Katie Nack, presented the award.
"The Bogaards have shown a deep respect for Villa Esperanza and the clients we serve," shared Rogers. "They were first introduced to Villa over 25 years ago by several people including former Mayor Katie Nack and her daughter Susie, who has been a Villa client for over 45 years. Since that time Claire and Bill have served on various task forces and committees providing guidance and support." Rogers goes on to say, "Their support of Villa and other local non-profits is because they feel an obligation to help those who can just use that extra helping hand. They don't do what they do for themselves; they do it because they think it is the right thing to do for the community."
Majority Floor Leader of the California State Assembly Chris Holden also spoke in honor of the Bogaards. Holden shared his deep respect for all the accomplishments the couple has achieved throughout the community and presented them with a proclamation. Holden who served on the Pasadena City Council with Bill is also a friend of the Special Needs community and one of the legislators who is supporting a 10% increase in funding for Developmental Disabilities Services in the upcoming state budget.
After dinner, NBC4 Weathercaster, Fritz Coleman, took to the stage and served as auctioneer and entertainer creating laughs and raising funds for Villa's programs. The committee members for the event included Kathy Cunningham, Paulette Geragos, Hallee Gould, Janet Louie, Marcie Robinson, Maryann Seduski, Norma Velvikis and Jeri Wright.

2015 Blue & White Event Photos

Thanks to everyone who attended last year's event!