GET INVOLVED - ADVOCATE
Thank you for your interest in helping Villa with our advocacy efforts! For more information about our current advocacy campaign, how to advocate, or to find please scroll down or click on the links in the green navigation bar above.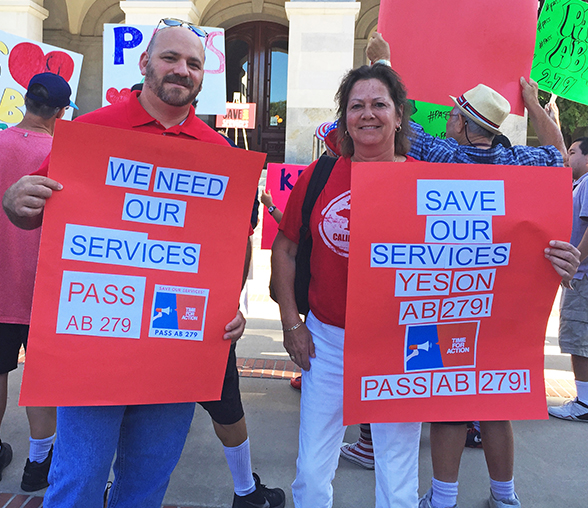 Villa's CEO, Kelly White, and Vice President of Adult Programs, Aaron Kitzman, attend the AB279 rally in Sacramento.
Current Advocacy Campaign
Fight for Bridge Funding Successful! (Updated 7/7/18)
Thank you to everyone who wrote, called, or emailed! Special thanks to Assemblymember Chris Holden, who has been and continues to be a champion for the intellectual/developmental disabilities (I/DD) community. Thanks to everyone's advocacy efforts, the 2018-2018 California State Budget was passed with $25 million in bridge funding for service providers for one year. This will help service providers with local minimum wage increases until a new rate study is released in 2019. Currently, service providers are reimbursed by the regional centers at rates determined by the CA Legislature. Rates can be increased to meet state minimum wage requirements, but NOT for city or county minimum wage requirements. With the minimum wage in Pasadena going up to $13.25 an hour in 2018, in contrast to the $11 an hour mandated by California, current reimbursement rates will create a significant shortfall. The bridge funding was a necessary step to help keep doors open until a long term solution can be reached.

In addition, the implementation of the uniform holiday schedule was delayed for one year. This would have required an additional 5 days of program closures at Villa, which would have had an adverse affect on those that we serve and their families.

While the budget did have good news for the I/DD community, there is still much work to be done. Stay tuned for more advocacy updates as we continue to fight for the services and rights the I/DD community deserves.
General Advocacy Information
Villa has a desire to advocate for and protect those that cannot speak for themselves in the intellectual/developmental disabilities (I/DD) community. As part of a coalition of 16 Southern California non-profits dedicated to increasing awareness and educating both local and state legislators, friends and families on the importance of continued funding, Villa works tirelessly with these and other local service providers to make our voice heard. We have been extremely active in our advocacy efforts - we contact legislators through emails, phone calls, faxes, and handwritten letters; we arrange meetings with legislators locally and in Sacramento; and we attend hearings and rallies in Sacramento. Villa's goal is to help protect services for children and adults with intellecual/developmental disabilites including autism, Down syndrome and cerebral palsy.
As issues which affect our community come to light, we often request specific support from our base to help us with email or letter writing campaigns.
If you would like more information on how to become an advocate in your community, please email
info@villaesperanzaservices.org
. To stay up to date with Villa's advocacy efforts, please
join our email list
and check out our
Facebook page.
Villa's CEO, Kelly White, and previous Villa family member, Margaret Morris, march in a Lanterman Coalition Rally.
Find Your Legislators
Senator Anthony Portantino - District 25

Includes all or parts of the cities of Altadena, Burbank, Glendale, La Canada Flintridge, Monrovia, Pasadena, South Pasadena, and San Marino.

Website: http://sd25.senate.ca.gov
Click Here to Contact Senator Portantino Now!


Capitol Office
State Capitol, Room 5097
Sacramento, CA 95814
Phone: (916) 651-4025
Fax: (916) 651-4925

Glendale District Office
1000 North Central Avenue, Suite 240
Glendale, CA 91203
Phone: (818) 409-0400
Fax: (818) 409-1256

Senator Susan Rubio – District 22

Includes all or parts of the cities of Los Angeles, Alhambra, East Los Angeles, San Marino, and South Pasadena.

Website: http://sd22.senate.ca.gov
Click Here to Contact Senator Rubio Now!


Capitol Office
State Capitol, Room 2080
Sacramento, CA 95814
Phone: (916) 651-4022
Fax: (916) 651-4922

West Covina District Office
100 S. Vincent Ave, Ste. 401
West Covina, CA 91790
Phone: (626) 430-2499

Senator Maria Elena Durazo - District 24

Includes all or parts of the cities of East Los Angeles, Monterey Park, Rosemead, El Monte, Irwindale, Baldwin Park, West Covina, and Azusa.

Website: http://sd24.senate.ca.gov
Click Here to Contact Senator Durazo Now!


Capitol Office
State Capitol, Room 5066
Sacramento, CA 95814
Phone: (916) 651-4024
Fax: (916) 651-4924

District Office
1808 W. Sunset Blvd.
East Los Angeles, CA 90026
Phone: (213) 483-9300
Fax: (213) 483-9305
Assemblymember Ed Chau - 49th District

Includes all or parts of the cities of Alhambra, El Monte, Monterey Park, Rosemead, San Gabriel, San Marino and South El Monte.

Website: https://a49.asmdc.org
Click Here to Contact Assemblymember Chau Now!


Capitol Office
State Capitol
P.O. Box 942849
Sacramento, CA 94249-0049
Phone: (916) 319-2049
Fax: (916) 319-2149

District Office
1255 Corporate Center Dr. Ste 306
Monterey Park, CA 91754
Phone: (323) 264-4949
Fax: (323) 264-4916

Assemblymember Chris Holden - 41st District

Includes all or parts of the cities of Altadena, Arcadia, La Canada, La Crescenta-Montrose, Pasadena and South Pasadena.

Website: https://a41.asmdc.org
Click Here to Contact Assemblymember Holden Now!


Capitol Office
State Capitol
P.O. Box 942849
Sacramento, CA 94249-0041
Phone: (916) 319-2041
Fax: (916) 319-2141

Pasadena District Office
600 N. Rosemead Blvd, Suite 117
Pasadena, CA 91107
Phone: (626) 351-1917
Fax: (626) 351-6176
Assemblymember Blanca E. Rubio - 48th District

Includes all or parts of the cities of Duarte, Baldwin Park, El Monte, West Covina, Covina, Azusa and Glendora.


Website: https://a48.asmdc.org
Click Here to Contact Assemblymember Rubio Now!


Capitol Office
State Capitol
P.O. Box 942849
Sacramento, CA 94249-0048
Phone: (916) 319-2048
Fax: (916) 319-2148

District Office
100 North Barranca Street, Suite 895
West Covina, CA 91791
Phone: (626) 960-4457
Fax: (626) 960-1310
Senator Henry Stern - District 27

Includes all or parts of the cities/communities of Calabasas, Century City, Oxnard, Pacific Palisades, Santa Monica, Sherman Oaks, Studio City, Tarzana, West Hollywood, Westlake Village, and Woodland Hills

Website: http://sd27.senate.ca.gov
Click Here to Contact Senator Stern Now!


Capitol Office
State Capitol, Room 5108
Sacramento, CA 95814
Phone: (916) 651-4027
Fax: (916) 651-4927

Calabasas District Office
5016 N. Parkway Calabasas, Suite 222
Calabasas, CA 91302
Phone: (818) 876-3352
Fax: (818) 876-0802

Senator Hannah-Beth Jackson - District 19

Includes all or part of the cities Thousand Oaks, Simi Valley, Moorpark, Camarillo, Ventura, and Ojai.


Website: http://sd19.senate.ca.gov
Click Here to Contact Senator Jackson Now!


Capitol Office
State Capitol, Room 2032
Sacramento, CA 95814
Phone: (916) 651-4019


Oxnard District Office
300 E. Esplanade Drive, Suite 430
Oxnard, CA 93036
Phone: (805) 988-1940

Assemblymember Jesse Gabriel - 45th District

Includes all or part of the cities of Agoura Hills, Calabasas, Encino, Hidden Hills, Malibu, Oak Park, Oxnard, Pacific Palisades, Santa Monica, Tarzana, Topanga, Westlake Village, and Woodland Hills

Website: https://a45.asmdc.org
Click Here to Contact Assemblymember Gabriel Now!


Capitol Office
State Capitol
P.O. Box 942849
Sacramento, CA 94249-0045
Phone: (916) 319-2045
Fax: (916) 319-2145

District Office
6150 Van Nuys Boulevard, Suite 306
Van Nuys, CA 91401
Phone: (818) 904-3840
Fax: (818) 902-0764
Assemblymember Jacqui Irwin - 44th District

Includes all or part of the cities of Camarillo, Moorpark, Oak Park, Oxnard, Santa Rosa Valley, Thousand Oaks, and Westlake Village.


Website: https://a44.asmdc.org
Click Here to Contact Assemblymember Irwin Now!


Capitol Office
State Capitol
P.O. Box 942849, Room 5119
Sacramento, CA 94249
Phone: (916) 319-2044
Fax: (916) 319-2144

District Office
2301 E. Daily Drive, Suite 200
Camarillo, CA 93010
Phone: (805) 482-1904
Fax: (805) 482-1274