TOURNAMENT OF HOPE

Helicopter Golf Ball Drop Rules and Regulations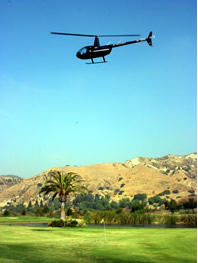 Thank you for your interest in purchasing a ball(s) for Villa's Helicopter Golf Ball Drop. The Golf Ball Drop will take place at Villa's Tournament of Hope on Monday, October 30, 2017 at the San Gabriel Country Club at approximately 5:00 p.m.

Golf balls are $20 each or $100 for 10 golf balls. The winner or winners of the Golf Ball Drop receives $2,000.

The numbered golf balls will be randomly placed into buckets and dropped from one helicopter onto the driving range with one designated winning hole. The ball that lands in the designated hole is the winner. In the event that more than one ball lands in the hole, winners will split the prize money. In the event of no hole-in-one, the ball closest to the hole will be designated the winner.

All online ball purchases must be made by Friday, October 20th by 12 noon (PST). Additional balls will be available for purchase between 9:00 a.m. and 11:00 a.m. on Monday, October 30 2017, at the Tournament of Hope at the San Gabriel Country Club at the registration table.
If you would like more information about Villa's Golf Tournament, visit the
Tournament page
or contact
Jenny Seto
at (626)449-2919, ext. 168.