MONTHLY DONATIONS

Make a huge impact!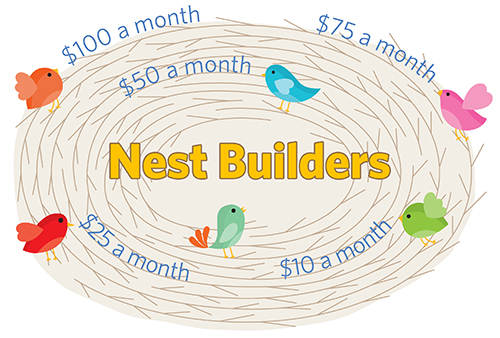 Villa is launching a new effort to make giving easier and more impactful for those we serve. We invite you to become one of our Nest Builders, where all year long, your monthly gift helps provide a nurturing future for children, adults and seniors with intellectual/developmental disabilities.
Your monthly support bolsters our efforts to create opportunities for those we serve.

$100 a month ($3.33 a day) helps our adults volunteer in the community, providing them transportation to and from other local non-profits where they bag food for the homeless or serve meals to seniors.


$75 a month ($2.50 a day) gives a child with special needs a voice, providing them with speech and language therapy.


$50 a month ($1.66 a day) helps cover the cost for Occupational Therapy for Villa students.


$25 a month ($0.83 a day) supports job training for our adults, helping them strengthen their skills which will offer them employment opportunities in the community.


$10 a month ($0.33 a day) provides adults with the opportunity to attend social activities such as art classes or sporting events.
We hope you will consider joining Nest Builders. Thank you for nurturing the future of the children, adults and seniors we serve!

View our Financials
Villa's Tax ID #: 95-2148860
For more information about the Nest Builders campaign, please contact
Michelle Cox, Director of Development, at (626)449-2919, ext. 128.

Development Department (Main Office): 2060 East Villa Street, Pasadena, CA 91107 * Phone: (626)449-2919 * Fax: (626)449-2850