LIGHT IT UP BLUE

and

WORLD AUTISM AWARENESS DAY
We hope you will participate in this year's Light It Up Blue in honor and support of individuals with autism!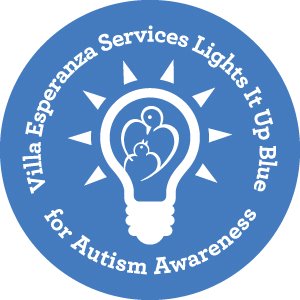 Light It Up Blue, also known as World Autism Awareness Day, kicks off Autism Awareness Month to help raise global awareness about the disorder which currently affects 1 in 68 children here in the United States.

The majority of the children at Villa Esperanza's school have moderate to severe autism and we also serve many adults with the disorder. Autism is a complex condition that affects a person's ability to communicate and develop social relationships. It is often accompanied by behavioral challenges. Participation in Light It Up Blue helps bring attention to autism and those affected by it.

We hope you will join us in wearing blue on April 2nd and all month long! Keep the conversation about autism going all throughout April, which is Autism Awareness Month. Thank you and we appreciate your support!

For more information about Light It Up Blue, visit the Autism Speaks website.

Be sure to Like Villa on Facebook and Follow Villa on Instagram and Twitter to keep up to date with our Light It Up Blue activities!



Share Your Selfies!



Share your best Light It Up Blue selfie/photo with Villa on our Facebook, Instagram, or Twitter pages (you can include hashtags like #VillaLightsItUpBlue and #AutismAwareness). Or email your selfies/photos to Volunteer Coordinator Katherine Evans at KEvans@VillaEsperanzaServices.org. Tell us why you LIUB! This is a great way to help educate people about autism. We appreciate your support!
Light It Up Blue at Villa Esperanza Services



Blue lights at night in Villa's windows.




Villa's Adult Day Program (ADP) created a Light It Up Blue artwork.




Villa's Pasadena Employment clients and staff light it up blue.




Villa Esperanza School students hugging at the Light It Up Blue pep rally.




Villa's Development staff light it up blue.




Villa's West Region staff and clients light it up blue.