Dear Family and Friends:
The cover photo of our
Biennial Report
is a young girl with special needs who holds her brightly painted hand up to the camera. It's an image that brings to mind joy, creativity, and the diversity of the children, adults, and seniors we serve. Hands also build – many hands are working together to build our new and expanded facilities as part of the Hope Moves Forward capital campaign. This progress could not have been possible without Villa's dedicated board members, donors, families, staff, and volunteers. Thanks to all of you, the past two years have been full of growth and success, and we have continued to make strides in fulfilling our strategic goals.
Advocacy remains a pillar of Villa's commitment to the population we serve. We thank you for joining us in providing a voice for those who are unable to speak for themselves. With your continued support Villa will remain visible, active, and engaged. Together we're creating bright futures for people like Coen and Clorinda – two Villa clients whose journeys are full of light and possibility, and whose inspiring stories we proudly share in our
Biennial Report.
Villa continues to adapt to the changing needs of those we serve – nine staff members at the Villa School are now certified in the Developmental Individual Differences Relationship Model (DIR), a teaching strategy that focuses on social-emotional growth and is another tool in Villa's multidisciplinary approach to education. The Villa Esperanza School also received on-site review certification from the California Department of Education in April of 2017. Additionally, Villa has received a three-year renewal of our CARF (Commission on Accreditation of Rehabilitation Facilities) accreditation. CARF accreditation is required to operate our employment services programs. These accomplishments reflect the overall quality and integrity of our organization.
It is with great excitement that we announce the completion of our Phase I Hope Moves Forward Capital Campaign. Construction was completed this summer with our students beginning the 2018-19 school year in the new classrooms Villa's new state-of-the-art facilities will position us to respond to the growing population of children and adults with disabilities in a campus that is bright, light-filled, and modern. We are extremely grateful to all of the individuals and organizations who graciously support this campaign as well as those who donate to our general operating fund. Your generosity enables Villa to provide outstanding programs that make a profound difference in the lives of those we serve – with your help, we can continue creating bright futures for Villa's children, adults, and seniors. Thank you!
With gratitude,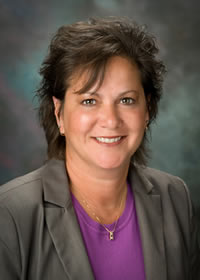 Kelly White, MA, LMFT
Chief Executive Officer