In 2019, we participated in an intense advocacy campaign to fight for an 8% increase across all services for intellectually/developmentally disabled (I/DD) individuals in the state of California. Service providers, family members, community members, and individuals with intellectual/developmental disabilities all came together to raise our voice to the Legislature. Our supporters wrote letters, called, faxed, and rallied in Sacramento and Van Nuys, and several core groups met with legislators to educate them on the problems facing the I/DD community.
We want to thank everyone for your incredible advocacy efforts. Your phone calls, letters, and emails produced results and the final California budget included 6-8% rate increases for several programs for individuals with intellectual/developmental disabilities.
We are grateful to all of you for advocating for these increases every step of the way. At the conclusion of the negotiations, the Governor's representative stated publicly, "We heard you, and we responded."
In January 2020, the Governor announced some changes to the budget, which included some good news for the I/DD community. There was a slight increase in funding for special education and early intervention services. And the increases we fought for will now expire in December 2023 instead of December 2021. This is all good news, but
there is still work to do.
Though we wish they were, our advocacy efforts are not over yet. While we are grateful for this victory, these hard-won increases are still scheduled to expire. The increases were a stop-gap measure to begin with just to help keep California service providers' doors open, and a more permanent solution will need to be found. For more information and context on this, please read the "Why Is This Important?" section below.
So while we celebrate our victory, there is still work to be done. We must continue to talk to our elected officials, thank them for their support, and make inroads in the State Legislature. We need to convince our new Governor and our legislature that we simply cannot allow people's lives to fall backward.
Why Is This Important?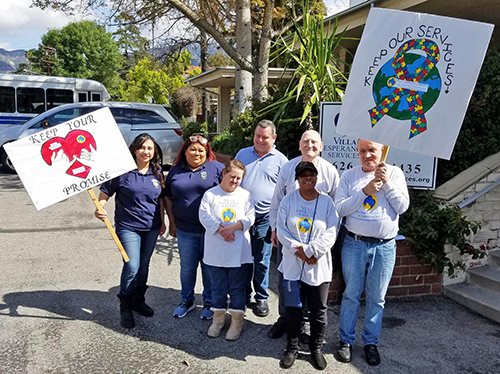 Villa clients from the Adult Day Program (ADP) and Villa staff get ready to attend a rally in Van Nuys.
Once again, California service providers for individuals with intellectual/developmental disabilities (I/DD) are facing a crisis. More than 330,000 Californians with I/DD live in our state; they are our neighbors, classmates, coworkers, family, and friends. However, their support structure has been grossly underfunded and is failing. Reimbursement rates in some programs have not increased in 20 years. Direct support staff are quitting the field or working multiple jobs due to low wages, essential programs are closing throughout the state, and individuals with I/DD are forced to live with inadequate supports or without supports at all.
These vital services are in jeopardy due to the severe financial constraints under which Villa and other service providers are forced to operate. California's lawmakers must fund the services and supports that people with I/DD rely on to access their civil rights.
Additionally, for the first time in 25 years, the State has hired consultants to take a hard look at how much the State should support critical services for individuals with I/DD. A draft of the Rate Study as mandated by ABX2-1 was published on March 15th by the Department of Developmental Services. It is critical that all stakeholders have an opportunity to fully vet all key assumptions in this study. We must discuss where and how these assumptions will lead to unintended, negative, and potentially disastrous consequences and then, agree on how we can work together to modify these key assumptions.
Support and Articles to Share
We are grateful to local legislators Chris Holden, Henry Stern and Adrin Nazarian for all of their support and assistance. Assemblymember Chris Holden wrote to Legislative leaders urging them to do the right thing in 2019. He urged them to adopt the Senate's funding proposals and see them signed into law.
Click here to read Assemblymember Holden's letter.
Additionally, he and Senator Stern both wrote opinion pieces on why they supported the 8% increase for I/DD Services:
Congressman Holden's Opinion Piece in the Pasadena Star News
Senator Stern's Editorial in the Los Angeles Daily News
Villa has a desire to advocate for and protect those that cannot speak for themselves in the intellectual/developmental disabilities (I/DD) community. As part of a coalition of 16 Southern California non-profits dedicated to increasing awareness and educating both local and state legislators, friends and families on the importance of continued funding, Villa works tirelessly with these and other local service providers to make our voice heard. We have been extremely active in our advocacy efforts - we contact legislators through emails, phone calls, faxes, and handwritten letters; we arrange meetings with legislators locally and in Sacramento; and we attend hearings and rallies in Sacramento. Villa's goal is to help protect services for children and adults with intellecual/developmental disabilites including autism, Down syndrome and cerebral palsy.
As issues which affect our community come to light, we often request specific support from our base to help us with email or letter writing campaigns.
If you would like more information on how to become an advocate in your community, please email
info@villaesperanzaservices.org
. To stay up to date with Villa's advocacy efforts, please
join our email list
and check out our
Facebook page.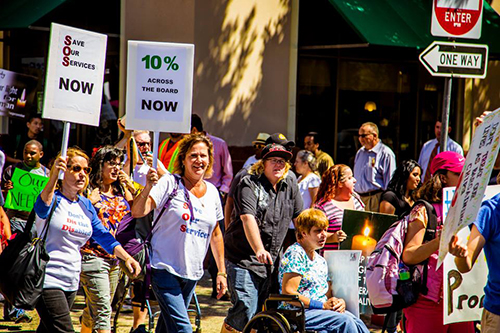 Villa's CEO, Kelly White, and previous Villa family member, Margaret Morris, march in a Lanterman Coalition Rally.