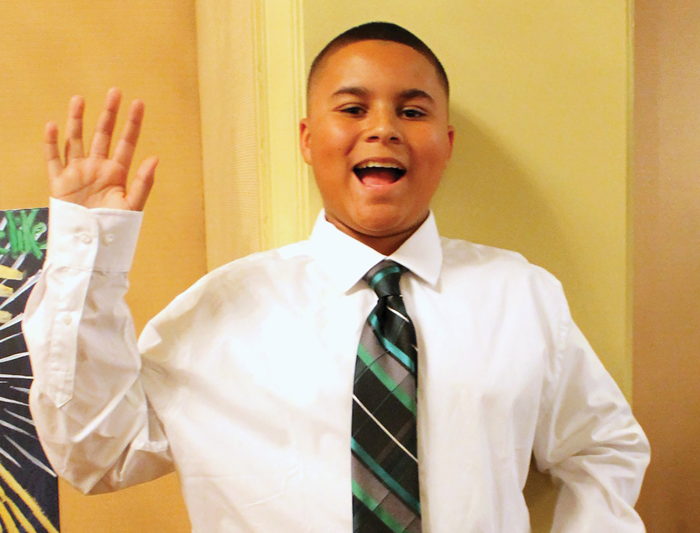 David greeting guests at Villa's Blue & White Gala at the Langham.
When 13-year-old David Ledden first came to the school at Villa Esperanza Services, he seemed a shell of a boy — withdrawn, guarded, refusing to make eye contact and barely speaking a word. There were reasons, of course. He'd been homeless a good part of his young life, most recently living out of a truck in a Costco parking lot with his stepfather, rarely able to bathe and used to eating only about four different fast-food items. School attendance had been sporadic over the years. He read at a 1st-grade level.
But when a social worker reached out to Derrick Freeman, indicating the boy in need of help might be his biological son, David's life took a rare and momentous upward turn. After a DNA test confirmed his paternity, Freeman fought for custody and immediately sought out help for his newfound son in every corner. He worked with David's school counselor and tirelessly home-schooled him until they could find a stable learning environment that would be the right fit to accommodate his special needs and therapy services.
That right fit turned out to be Villa Esperanza Services. In less than one year at the school, David has grown into a happy, healthy and outgoing boy. Before Villa, he'd never had a friend before, he told his dad. "The outgoing kid you see today, it's taken a long time for him to get there," Freeman said. "My son told me he'd never had friends, that no one ever noticed him before, not in a good way. This school has just been a godsend to him. They've opened up a whole new world for him. We can't even get out of the car without people calling him by name, saying hi."
David's story might not be the typical one at Villa Esperanza Services, but then again, no story is. Villa's mission since 1961 has been to meet the special needs of each individual and provide love and hope within a continuum of care that ranges from infancy to adulthood.
"The kids don't fit into our program, we fit into theirs. Our services are very individually tailored to our clients' abilities, not their disabilities," said Kelly White, Villa's CEO. "We find the best way to tap into and pull out their emotions, abilities and skills, no matter what that might look like later in life, whether it's working out in the community or continuing to learn life skills."
Villa Esperanza Services first began as an independent day school in Pasadena for children with Down syndrome, back in a day when no public schools offered programs for children with developmental disabilities. Building on the vision of a small group of mothers, who believed their special-needs children deserved quality care and education, Villa has become a place for individuals with developmental disabilities to thrive, no longer secluded but visible members of the community, where they work, attend school and live independently. Responding to the enormous need of an oft-overlooked population, Villa has been at the forefront of creating programs to give individuals with intellectual and developmental disabilities the opportunity to learn, work and play with others. Villa now serves 26 school districts and more than 41 cities in Los Angeles and Ventura counties, and provides individual care to clients with any of 30 disabilities, including autism, Down syndrome and cerebral palsy.
The road for David might be long, but Villa is committed to every step of it. His dad, a single parent, knows he can count on Villa, especially when he might be ready to return to public schools. "I tell him I've loved him since the first day I met him, he's my world," his father said. "Everything with David is touch-and-go right now, but overall he's becoming a very happy kid, he's always thankful for any little thing."
Freeman paused to swallow emotion, recalling when David thanked him for getting him clean clothes. "I teared up so much I had to pull over in the car," he recalled. He knows he can't make up for the lost years, but Freeman takes comfort in knowing Villa is helping David to recover and thrive.
"At this school he's just allowed to be himself without being judged or bullied," Freeman said. "David loves this school. Every day, he is happy to go and he loves the staff." Villa teachers and staff are all looking forward to David's continued growth and developing long lasting friendships.