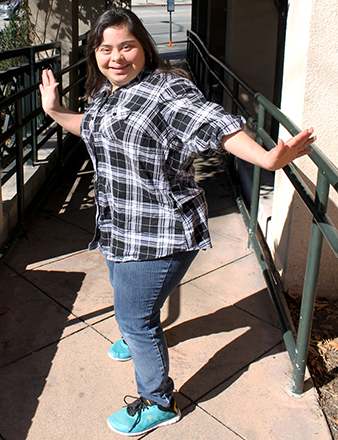 Jasmine strikes a pose outside of the Pasadena Senior Center, where she volunteers regularly.
When Jasmine started with Villa's Dimensions Adult Day Program (Dimensions) in 2013, Program Director Claudia Cortez immediately saw her potential for growth. "I remember when she joined Villa, she was a bit bossy and had difficulties communicating her wants and needs," Claudia recounted. "She wasn't interested in helping or following the rules." But as with all of the adults who come to Dimensions, Claudia knew that the Villa team could help find Jasmine a volunteer opportunity that would help her grow and provide her with a meaningful experience.
After Villa's team began working with Jasmine, coaching her, and introducing her to volunteering, she began to shift her views. Jasmine started volunteering at the Pasadena Senior Center six years ago, where her generous and caring spirit has blossomed. Today, she has grown into an independent woman who loves to help; she spends her volunteer hours interacting with the seniors and helping set up tables, serve food, and wash dishes. Pasadena Senior Center Site Manager, Patricia Washington, shared: "Jasmine is an excellent worker. She follows directions very well and is a joy to work with."
Jasmine's time volunteering has been beneficial for Jasmine and the Pasadena community, and Jasmine's parents are grateful for all she has learned. "We are very proud of Jasmine's growth during her time at Dimensions," her parents Elizabeth and Edmundo Garcia commented. "Jasmine feels accomplished and happy that she can give back to her community. She looks forward to helping out at the Senior Center and calls it her job. It makes her feel important and valued." Jasmine is the epitome of Villa's mission to ensure that all individuals with intellectual/developmental disabilities feel important and valued in the communities they volunteer and work in.