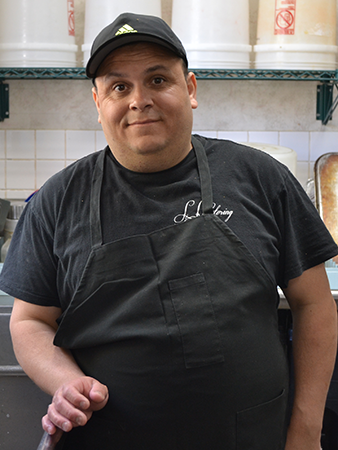 Andres and Lauren - Lauren owns Lauren's Lunch Catering where Andres is a valued member of her team.
When Andres Pelaez first came to Villa, he was in a time of transition. He didn't have the skills yet to be hired for a job, but was fully capable and willing to learn. Villa's Community Integration Program (CIP) was a perfect fit for Andres and provided him with volunteer opportunities in the community where he could gain experience and confidence. With his newly developed skills, Andres set his sights on getting a job. Villa CIP Director, Darryl Goodus, along with Villa's Employment Services Program Director, Michael Green, worked together to help Andres realize his goal of gainful employment.
For many individuals like Andres, taking on a job and setting goals can be daunting. That's where Villa's Employment Services Program comes in. Job coaches help guide clients through the entire process of getting and keeping a job – from the job application and interview process through on the job training and finally job performance and goal setting. It's all about seeing the potential in each individual and finding the right job that allows someone like Andres the opportunity to grow and develop new skills while also benefitting the company they work for.
For Andres, that company was Lauren's Lunches Catering (LL Catering). When an opening became available at LL Catering, Andres jumped at the chance to work in the kitchen. Owner Lauren Clark took a chance on Andres and it has been beneficial for both of them. "When I was initially approached by Villa about hiring Andres, I was hesitant for several reasons, especially as I had no prior personal experience with anyone with this type of disability," Lauren explained. "When I said yes, I was surprised and relieved Villa provided a daily job coach who guided Andres through every aspect of learning his job. That coach worked with Andres every day until he was able to do the job without help."
That was in 2017 and Andres has been with LL Catering ever since. Andres has been such a model employee that today Lauren employs several of Villa's clients. "LL Catering has been a great partner and has hired six individuals from Villa's Employment Program. Not only are they willing to provide opportunities for many individuals with intellectual/developmental disabilities to be a part of their operations, they create an environment where each employee is a respected member of the team," Michael shared. "More employers are beginning to realize that the individuals we serve make great employees and provide valuable contributions day in and day out to that business."
Andres now works most days completely independently, only receiving occasional visits from his job coach. He works diligently to keep equipment organized, cleaned, and sanitized for use in the kitchen. "Now Andres knows his job and daily routine backwards and forwards," Lauren said. "He is a great worker, always wanting to be helpful, and always looking for new tasks." In his own words, Andres shared, "I like working hard and getting a paycheck." He continues to work hard, taking initiative and working to set new goals for himself. When asked about his future plans, Andres smiled and exclaimed, "I want to learn to drive!"
Villa will continue to help Andres achieve all of his aspirations. "Andres progressed from a day program into competitive integrated employment where he is thriving," Michael commented. "He is a great example of Villa's efforts and philosophy to encourage personal growth and independence."